Notice Board
Useful telephone numbers and addresses, more information can be found on www.caistor.net

Shops
Post Office 25 market Place, Caistor. LN& 6TU Tel. 01472 851201
Butchers 10 Cornhill ,Caistor. LN7 6UB Tel. 01472 851436
Co-op 16 High St,Caistor. LN7 6QF Tel. 01472 851169
Open 7am-10pm Mon-Sat & 10am-4pm Sun
Spar 2 Horsemarket,Caistor.LN7 6UP Tel. 01472 851480
Open 6am-10pm Mon-Sat & 6-30am-10pm Sun
Paper shop 10 Market Place,Caistor.LN76TU Tel. 01472 851333
Boots 1 Market Place,Caistor.LN7 6TJ Tel. 01472 851678 (The chemist)
Open 9am-5-30pm Mon-Frid &9am-1pm Sat
Boots 3 Queen st,Market Rasen,LN8 3EH The chemist)
Open 8.30am-6-30pm Mon-Wed & Frid 8-30am-5-30pm Thurs & Sat.
Tesco Linwood Road, Market Rasen.LN8 3AW Tel. 0845 677 9871
Open 6am-10pm Mon-Sat & 10am-4pm Sun
Bank Cash Machines outside old Nat West building in Market Place, Caistor and inside the Post office.
Churches details on www.caistor.net
Doctors Caistor Health Centre,Dale View,Casitor LN7 6NX Tel 01472 851203
NHS Direct New number 111
Taxi M's Taxi Tel 01652 678366 or 07887794403
Police Caistor South Dale LN7 6LS Tel. 01472 851618
County Police 999 or 01522 882222 or Non urgent 01522 532222
Garage Southdale service station, Southdale,Caistor Tel. 01472 851229
Takeaways
Micks Chippy Market Place, Caistor Tel. 01472 851763


Mon 11.30am -1.30pm & 4pm-7.30pm
Tues 11.30am-2pm & 4pm-8pm
Wed 11.30am-1.30pm & 4pm-8pm
Thurs 11.30am-2pm & 4pm-8pm
Fri 11.30am-2pm & 4pm-8.30pm
Sat 11.30am-2pm & 4pm-8pm

Pizza 26 Market Place,Caistor LN7 6TU Tel. 01472 852020
Indian 2 Horsemarket,Caistor.LN76UP Tel. 01472 852999
Chinese 12 Market place.Caistor. LN7 6TW Tel. 01472 859888
Savages Fish and Chips 16 High St( Next to the Co-op) 01472 851171. Open 11-2pm & 3-30-8pm.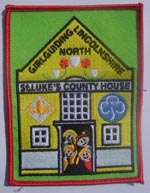 You can order The County House Badge on the booking form. Sale or return can be arranged if you wish.
Assorted box of small souvenirs.
A box of small sale or return souvenirs can be ordered for purchases during your stay at The County House. Please make enquires with the booking secretary at the time of booking. Advance notice is required.